Trump is big news in every industry, and real estate is no exception. Will the American political situation have drastic impacts on Canadian property values? Specifically, what will happen in Toronto – and should investors at home or south of the border buy now or wait until Trump's effects mellow out in the market?
Here are three areas that can alter the Toronto real estate market, all impacted by the U.S. president's administrative decisions, whether they've been enacted or promised to come to fruition. Be careful though, as some of these factors might not be negatives to your ROI. In fact, they could trigger some key areas of opportunity.
Lackluster Loonie
The Canadian economy has felt the sting of shifting political tides, dropping several cents in value since Trump's election victory in November 2016. But this is not abnormal when it comes to U.S. elections.
"The Canadian dollar always weakens the year after a U.S. election. Well, almost always," states Better Dwelling. Over the coming year the Loonie will likely adjust, signalling that we may not be that far off from a rising dollar. "Over the past six elections, the U.S. dollar gained an average of 5.75% on the Loonie over the year following."
The Loonie's impact on foreign investment could prove significant. The American dollar can stretch further when paying in Canadian, although house pricing in Canada has historically been much more expensive than in the U.S. – as high as 50% more expensive on average. Even still, the Toronto market could be a wise investment for American real estate developers or investors.
"Real estate is a special type of investment money managers call an 'inflation sensitive asset.' These are investments that appreciate in-line with true inflation… A devaluation in currency is more likely to be reflected in the price of property, plus or minus demand," continues Better Dwelling's assessment of the pricing influences.
So the Loonie's impact on Toronto real estate will be apparent over the next year, but that also brings opportunity…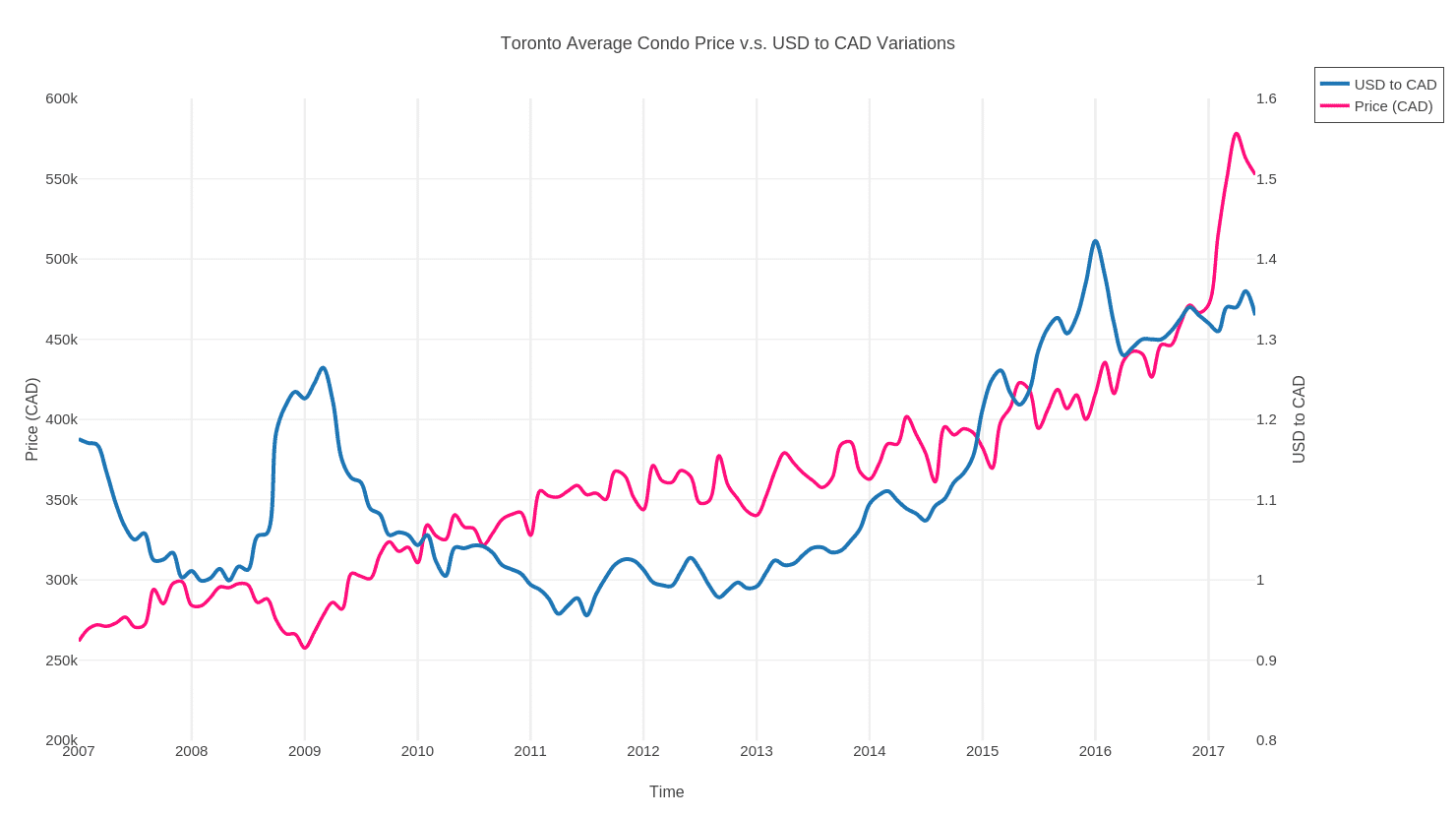 Gnowise data predicted a decrease in the Toronto housing market over the course of 2017, hitting its lower plateau later in the year. For foreign investors (or those closer to home), this could be the perfect time to purchase property, as 2018 could mean a rise in the Loonie and, in turn, Toronto house prices. For savvy investors, this could also mean a significant rise in profits.
The Tech Boom of 'Silicon Valley North'
Forget the soaring housing prices in Silicon Valley or New York, as the tech world has its eyes locked tightly on Toronto. 218,000 ICT jobs are needed in Canada, and with many of those likely to be placed in the Golden Horseshoe Area, you can be assured that housing is going to be a high priority.
David Rider for the Toronto Star recently explained the draw north of the border, and how this may be politically influenced. "Factors helping make the region a magnet for business and talent include political and economic stability, a huge university and college research capacity, established tech sector with dozens of incubators, receptive governments, high quality of life and — particularly compared to the U.S. now — an embrace of cultural diversity."
Trump's political party, in comparison to that of other countries like Canada, could push the tech industry into new geographic territory. And location in Toronto is going to be key, as Rider states that, "the tech boom is expected to be focused downtown where Waterfront Toronto is redeveloping sites with ultra-high-speed broadband."
James C. Chou of WorkMarket echoes the perfect environment for a tech boom. "Last year, Thomson Reuters made a large expansion of its Canadian operations with the creation of a new technology center in downtown Toronto. Google has a presence near Waterloo, and the University of Waterloo provides a sizable pipeline of students."
Although some of the 1500 jobs that Thomson Reuters will bring into Toronto could be from local talent, there will no doubt be an influx of skilled workers in need of more permanent accommodations.
An "impossible to predict" U.S. market
The U.S. market has become increasingly volatile in the past months. With uncertainty around Trump's decisions on NAFTA, the Paris agreement and border control, international investors may be wondering if America is the right place to invest their money.
According to MoneySense, that sentiment can be shared amongst many top analysts, including David Rosenberg, chief economist and strategist at Gluskin Sheff + Associates. "It's a big mistake to invest around politics. Despite my advice not to invest around Trumponomics, people did it in any event and that is what is being unwound now." Consider where the biggest losses occurred this week. The hardest hit stocks were concentrated in U.S. financials, employment services and tech companies — the Trump sectors."
That predicament can lead foreign investors to safer territory, such as Canada and Toronto. Sellers in the Toronto area may be able to find foreign investors looking to get in on the market, while buyers may see additional competition coming from overseas.
For investors looking to maximize their Toronto real estate investments during Trump's presidency, there are certainly many factors that will come into play. Using Gnowise predictive analytics, shifting prices can be evaluated with more accuracy to determine when it's the right time to buy and sell.